The History of Operation Hand Up
Operation Hand Up (OHU) was founded in 1998 in response to the complexity of economic and social issues in the Inland Empire region of Southern California. Currently, OHU occupies a 5,600 square-foot facility for the distribution of food, clothing, diapers, baby formula, hygiene products, and various miscellaneous items. These items are distributed at no cost to the community weekly. We also provide food and hygiene items to over forty organizations
Every year OHU distributes food to more than 500,000 people by transporting millions of pounds of food to and from our distribution center.
In 2020 and during Covid-19, over one million people received food from the 10.1 million+ pounds of food that we delivered.

Our Food Distribution Center is a privately-funded feeding program that provides food and other necessities to clients on our local campus at no cost. Operation Hand Up owns and operates tractor trailers that haul food and hygiene products to our campus for distribution. Our large walk-in refrigerator allows us to keep the food fresh and minimizes spoilage.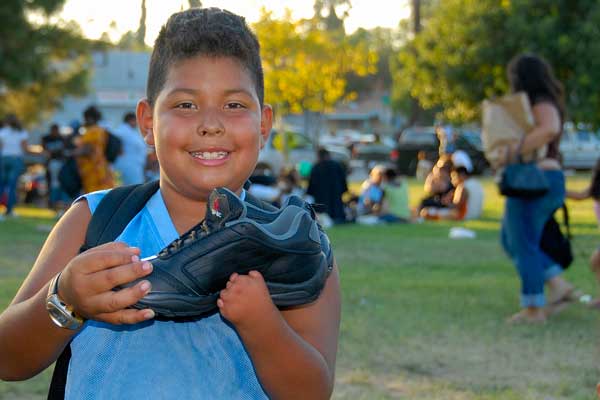 Recipients of emergency food typically have limited resources from which to draw when struggling with financial difficulties. According to statistics from San Bernardino County, roughly thirteen percent of client households are living in poverty. Additionally, our food distribution clients are often faced with making choices between food and other basic needs. More than one in three emergency food recipients must choose between an everyday necessity and sufficient food.
Our Mission Statement
Operation Hand Up is a 501(c)(3) public benefit non-profit corporation that exists to bring helping hands to those who are in need of mending and restoration in the affairs of their everyday lives. We bring assistance through providing food and vital resources to our local community.
We believe that we are a part of changing the economic landscape that will bring hope and a future to the San Bernardino area, which will promote business activity back to this area.
Programs & Services
-

Food Distribution Center

-

Clothing and Resource Center
-

Homeless Feeding Program

-

Street Events
How Can You Help?
Operation Hand Up depends on the generosity and support of concerned individuals, foundations, corporations, and manufacturers in order to provide food relief to over 500,000 hungry people each year.
Donations to OHU have no administrative cost, and accordingly, 100% of donations are utilized toward food purchase, food distribution and transportation.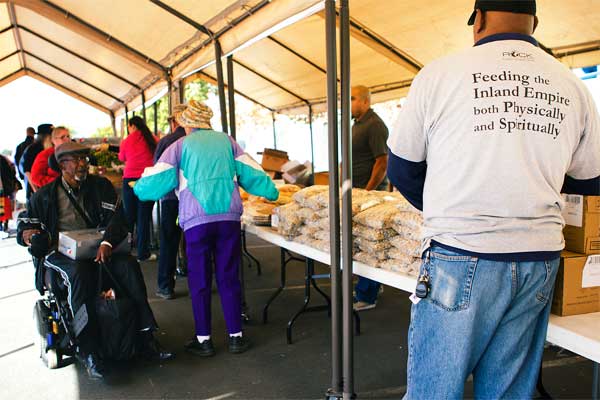 Volunteer
Each year volunteers of all ages assist in the fight against hunger by volunteering in the Food Distribution Center. Volunteers sort food and grocery products, pack grocery bags, answer questions, and staff special events.
Volunteers are essential to the operation of the Food Distribution Center. This program could not exist without them. For more information on how you can be a part of this awesome program, please get in touch.
Donate
We would love for you to partner with us by donating any amount to help us continue to reach those in need. As a 501(c)(3) public benefit non-profit corporation, all donation are tax-deductible. Donations from Corporate entities are also encouraged and appreciated.
All donations are used locally in California's Inland Empire.
Contact Us
We would love to hear from you.
Phone:

Email:

Address: